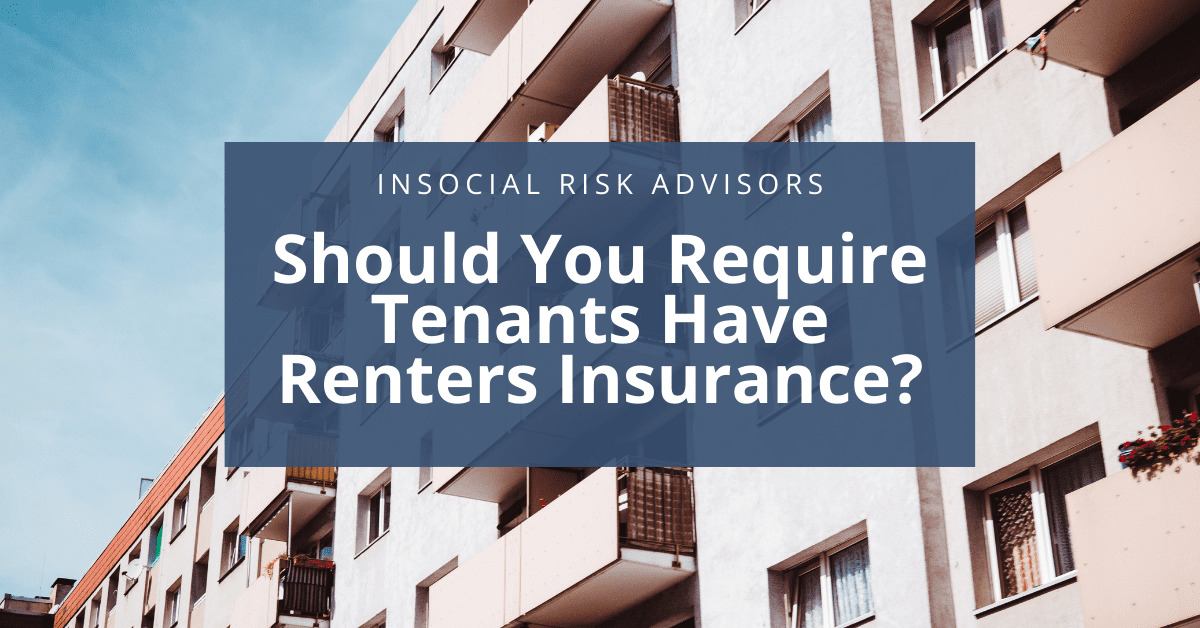 As a real estate investor and/or property manager, you understand that a large part of your job is dedicated to mitigating risk and protecting your assets. However, risk management is most likely not something your tenants are thinking about. Since you are in a business relationship that affects both your property and their property, it is important for everyone involved to consider the everyday protection of insurance.  
So, should your tenants have renters insurance? Then, if so, what is the best way to encourage or require them to obtain it and report having it? 
Why Tenants Need Renters Insurance 
Yes, your renters need renters insurance, and in a perfect world, all renters would have it. 
Having renters insurance is important for your tenants. It protects them, and it protects you. As a landlord, your insurance protects what you own – your property – and covers your liability.  Tenants need to understand that your insurance does not cover their property or liability.  
Alarmingly, six out of ten renters do not have renter's insurance (source). This leaves us all with a lot of exposed risk. So, here is what to communicate to your tenants to help them understand the importance of insurance. 
What is Renter's Insurance? 
To start, tenants should understand that renters insurance offers protections for tenants against the costs of property damage and the costs of liability suits and claims.  
The Main Benefits of Renter's Insurance 
There are two main reasons why renters need to strongly consider renters insurance: 
Property Damage:

Insurance companies pay out cash for replacing and/or fixing damaged or stolen property in a covered claim.

 

Liability:

Insurance companies pay for costs involved with a covered liability claim, such as medical expenses or damage restitution. 

 
Examples of Reasons to Have Renter's Insurance 
If your tenants still can't understand why they should be covered by renter's insurance, then here are some great examples of some common reasons. 
Replacement Costs:

Everyone's stuff is worth more than they think. For example, when you lose items in a fire, you have to replace them. Your blender might only be worth a few bucks used, but you will have to replace it with a new blender. Correspondingly, with normal inflation, that blender's price will probably have gone up. Add up all the items you need replaced, and suddenly, replacing your lost items is expensive. 

 

Pet Troubles:

Dogs (cats and other pets), kids and other unruly guests can cause trouble for renters. They can harm themselves, others or property. Renter's insurance can offer liability payouts to cover claims for damages to others. In addition, renter's insurance can offer protection for renters and their pets when they cause damage to other people's property off site. (For example, if a renter's dog attacks another dog on a walk and damages are assessed.) 

 

Burglary:

According to

Statista

, there were about 1.04 million burglary cases reported in the United States in 2020. While crime and burglary have been decreasing since the 1990's, it still happens often enough to require risk protection. 

 

Disasters:

Finally,

natural disasters are becoming more and more common. As our climate continues to change, insurance companies are handling more claims for property damage due to weather events and natural disasters. As long as it is still an affordable option, insurance is one of the only ways we have to protect ourselves from these covered events.

 
Benefits of Renter's Insurance 
As mentioned, renter's insurance offers benefits to all parties involved. Let's look at a few. 
Renter's Insurance is Affordable 
First of all, renter's insurance is a cost effective way to pay for expenses resulting from damages. Your renters may not know how relatively cheap renters insurance can be. While homeowner's insurance policies can be thousands of dollars a year, renter's is usually just a few hundred. In fact, according to the Insurance Information Institute, the average cost for renter's insurance is about $15 a month. Of course, the cost will depend on how much liability and property protection is needed. 
Protects Cash Flow 
Another benefit of renter's insurance is it can keep your renters in a positive cash flow. If your renter experiences a problem covered by their insurance, they will not have to use their own cash to solve the problem. As a result, their peril will not impede their cash flow and they will be able to still pay their rent.  
Expressly, protecting cash flow is even more important for lower income tenants. Without insurance, it can be very difficult to get back into a positive cash flow after an unplanned event or lawsuit. 
Covers Disaster Relocation Costs 
Next, renter's insurance can help a tenant with the costs involved with relocating or moving temporarily if they are displaced by a disaster or event. Often, relocation is a cost most people don't even consider when thinking about their insurance needs, but it is also very important. 
Lower Pet Costs 
Another benefit of your renters having insurance, for you as a landlord, is that it can help you mitigate the costs of allowing pets at your property. If you know your tenants have renters coverage, then you know their insurance will help with any pet related claims and damages. 
Can I Require My Tenants Have Renter's Insurance? 
If you want your tenants to have renter's insurance, you can often require it in your lease agreement. However, you will need to make sure this is a legal practice in your state. There are a few states and cities that have rules against requiring renters insurance for all renters. Some states include exceptions for government subsidized housing, rent controlled situations, or for people with low enough income levels to make rental insurance cost prohibitive.  
First, consult with your legal team on your local laws before including it in your lease agreements. Then, if allowed, you can also ask your renters to provide proof of insurance yearly.  
How Much Renter's Insurance Should I Require or Recommend?
The standard amount for renters insurance liability coverage is around $100,000. This is enough to cover the majority of claims your renters will ever face. The other important consideration is property damage claim limits. Note, the standard or average coverage is around $30,000. However, your renters will need to calculate the amount of money needed to replace their possessions, and costs will go up as their needs rise.  
Again, if you are requiring, instead of recommending, you should first make sure whatever you put into your rental agreements is legal and reasonable. Most of your renters will end up with a policy that costs them an average of $15 a month, and that is very affordable for most people.  
As a side note, requiring insurance could be a good screening technique for new renters. For example, if the $15 a month premium outlay deters your potential renters from renting a home with you, it might be an indication that cash management might be a struggle for them. In this instance, they might be better off choosing a different place to live.  
Conclusions
In summary, there is no country-wide (Federal) law that makes tenants buy renters insurance. However, in most instances, it is not illegal to put a clause in a lease agreement requiring renters' insurance. Moreover, it is usually a good idea to require renters to purchase this protection. Renter's Insurance is a low cost and effective way to give peace of mind to all parties involved.  For more information on renter's insurance, visit here.
Real Estate Investment Insurance Form