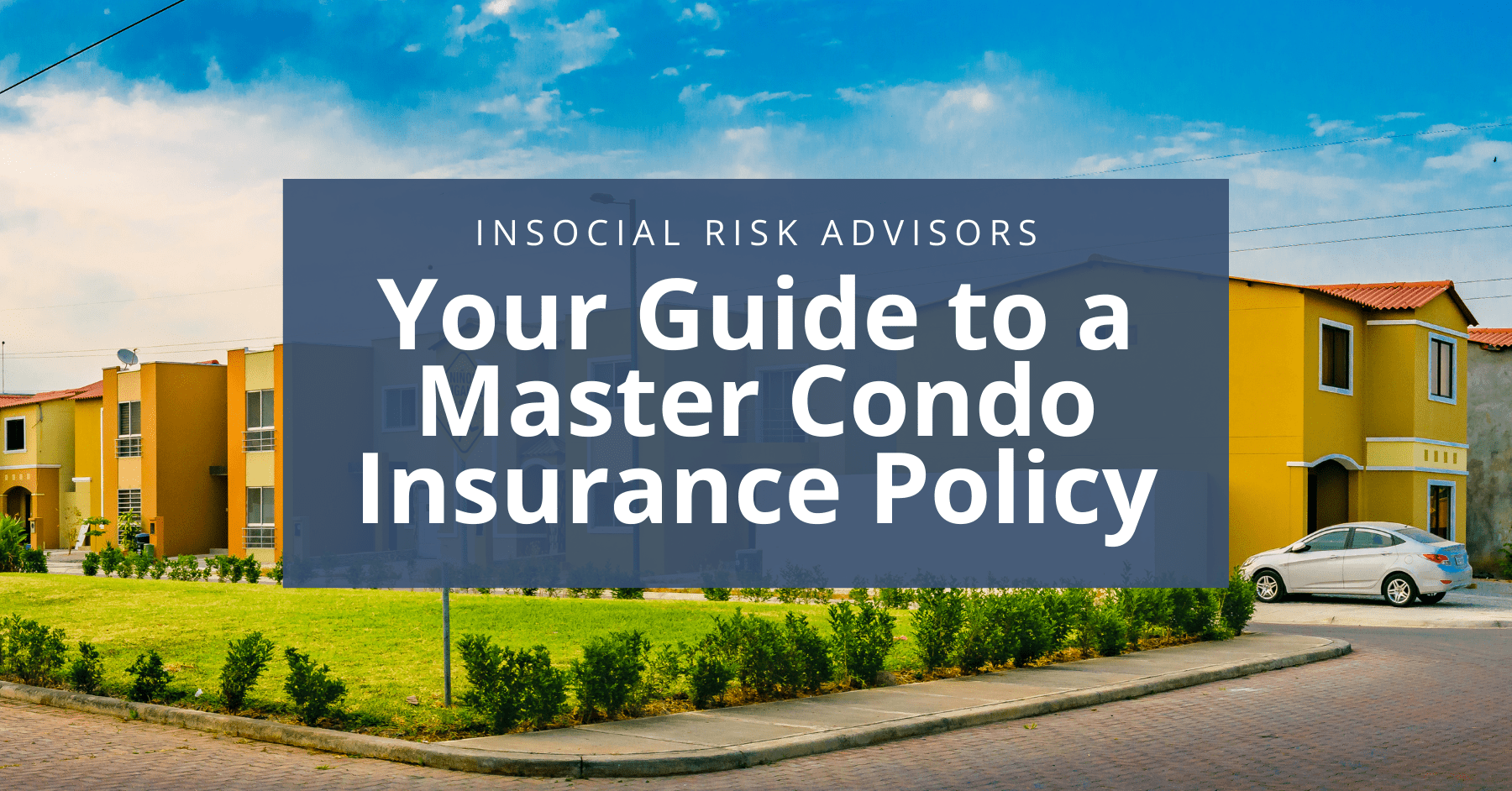 Every Condo Association needs a Master Condo Insurance policy to protect their property, liability, and board members from unexpected events.  
Master Condo Insurance Policies are coverage that protects the association, its board members, and any individual owners responsible for maintaining common areas of the building against damage caused by fire or other perils.  
These policies can also cover loss of income due to destruction or damage from those perils.  
In this article, we'll guide you through what a Master Condo Insurance Policy is and how it can help your condo association stay protected in case anything happens. 
Top Risks for Condo Associations 
The responsibilities and risks of running a homeowner's association are like those of managing a company.  
If you want peace of mind knowing that your community will be protected from hazards such as fire, natural disasters, or theft – and you want to manage a successful Condo Association, you'll need to have a strong risk management strategy in place.  
So, for that purpose, we've built this simple guide to help you get started with risk management for your Condo Association. 
One of the definitions of the term "risk" is the possibility of a loss or the potential for a catastrophe.  
On the other hand, risk exposure is the measurement of a possible loss because of an occurrence or behavior.
Here are the top three types of risk exposures that Condo Associations property managers need to be aware of. 
Property Hazards. 
Risks that affect your Condo Association's structures or facilities are referred to as property hazards. Fires, vandalism, wind, and other natural catastrophes are examples of events that might damage your buildings or facilities. 
Liability Hazards. 
Liabilities are defined as losses that are inflicted by a third party. For example, your vendors or suppliers neglect to follow safety guidelines, causing injuries or property damage that can lead to medical or legal fees. Property managers may be liable for these expenses.  
Net Income Hazards. 
The main risks that impact net income are revenue decreases and cost increases. If homeowners neglect to pay their dues on time, for example, the association may not have enough money to cover operational expenses. Net income losses can also come from poor financial administration from unskilled board members, resulting in mismanagement of funds. 
What is a Master Condo Insurance Policy? 
A Master Condo Insurance Policy protects your association against property risk exposures, including external events that cause physical damage to the building's structure or the common areas.  
Master Condo Insurance Policy also covers loss of income due to destruction or damage from those perils. For instance, if one of the units catches on fire and several units are damaged and are beyond habitable, the Master Condo Insurance Policy can help cover those costs.  
The policy typically includes property and liability coverage, which protects the association's interests, board members, officers, and unit owners. 
What does a Master Policy Cover? 
A Condo Association Insurance policy protects you from being held responsible for personal injuries or property damages that occur outside or exterior of the building or in the common indoor areas.  
The typical categories covered by condo insurance are Building and Property coverage, Liability, Directors and Officers, and Fidelity bonds.  
Even though every master condo policy is different, the following are examples of areas that are covered. 
Shared Buildings and Common Areas 
The policy covers property, building structures, or areas utilized by many unit owners. These include community parks and pools, a shared gym or event space, and the building's elevator, among other things.  
Parking lots or garages, walkways, pools, fitness centers, gyms, event spaces, a clubhouse, and the general environment are all covered under the coverage.  
Unit owners may also be held responsible for part of the common areas. 
The Condo Units Structure 
Although condo owners have autonomy over what they do inside their homes, it can be difficult to determine the difference between what is covered under the master policy and what is covered under the unit owner's policy.
There are multiple types of policies available, which makes this hard to understand.
The most popular ones are – Bare Walls Policy, a limited master condo policy that only covers the condo structure, including the roofing, wiring, piping, framing, and drywall, but does not cover interior features and aspects (Installations, fixtures, appliances).  
Single Entity Policy includes coverage for everything described in the bare walls policy plus the interior features and aspects that came with the unit.  
All-in coverage applies to the collective property owned by the condo association, or which is part of the condominium structure.  
It's the most comprehensive Condo Association Insurance policy available, including all condo improvements and add-ons. 
Who Determines What Type of Coverage Master Condo Policies Should Have? 
Each condo association can have different coverages in their policies for a variety of reasons.  However, the biggest impact is how the particular associations' declarations and bylaws are written.  
The decs and bylaws will address whether the master association or the unit owner is responsible for insuring what.  A common misconception is that the insurance carrier decides, this is not the case.  The insurance carrier will only go off what the associations' decs and bylaws state. 
All Master Condo Association Policies should include (at minimum) these 6 lines of coverage:  
Property 
Insurance protecting against perils such as fire, wind, hail, pipe bursts, etc.  Coverage for the building should be based off of guaranteed replacement cost up to 100% of the total cost to rebuild the structure.  Coverage for contents is separate from building coverage and will be a separate amount. 
General Liability 
This type of insurance protects against lawsuits you may face if you are liable for causing property damage or bodily injury. For example, a delivery person trips on the associations property and breaks their wrist, this coverage will help pay for the lawsuit and any medical expenses occurred. 
Crime/Fidelity Bond
This coverage is required to be compliant with FHA lending, as the landscape of condominiums is becoming more acceptable to this type of lending. In addition, coverage can include employee dishonesty, funds transfer fraud, & forgery & alteration. 
Directors and Officers
Coverage extends to the board, property manager, & volunteers to protect against lawsuits.  Decisions made by the board impact many people, and can increase their exposure to lawsuits and wrongful act claims. This coverage covers the cost of the lawsuit and should the board become legally obligated to pay. 
Cyber
Coverage that protects against cyber-related risks such as a cyber attack or data breach. If a cyber event occurs, this coverage can help cover legal fees and forensics, notification expenses to alert affected customers, loss of income due to network outages, and more. 
Umbrella 
Designed to provide an extra layer of liability coverage on top of your base limits, this coverage will take over once your base limits of liability are all used up.  Keep in mind, this coverage is only for liability and does not include property coverage. 
What is NOT Covered under a Master Policy? 
Floods, earthquakes, and sinkholes are all excluded from master condo insurance policies.  
They are frequently left out, and you'll generally need to buy separate coverage if you live in or near a high-risk area or location.  
Additionally, as a condition for a mortgage loan, you may be required to get flood coverage as optional coverage. 
Who Pays for the Master Condo Insurance Policy? 
Condo unit owners are required to pay an HOA monthly fee. A portion of this money is generally used to cover the master condo policy premium. 
What is the Difference Between a Master Policy (HOA) and an Individual Condo Insurance Policy (HO6)? 
The Master Condo Policy, also known as Condo Association Insurance, covers both general liability and property damage for common areas in a Condominium.  
The policy covers two key categories of risk – general liability for the association and common area properties. In comparison, the individual condo insurance policy is the unit owner's responsibility.  
This is important because this insurance protects personal property and belongings and provides personal liability coverage in the event of an accident within the confines of an owner's individual apartment.  
Also, in many situations, mortgage lenders or condo associations will require every unit owner to carry their own condo insurance policy. 
How Can We Help You Get the Right Master Condo Insurance? 
Having an experienced insurance advisor working on your side can be crucial when shopping for condominium insurance and trying to understand the best coverage for you and how much you should buy. 
Our advisors recognize that there is no such thing as one-size-fits-all and can assist you in ensuring that you don't pay for unneeded coverage and that you have the right insurance in place. 
Fill out the form below to get started on your master condo insurance policy.