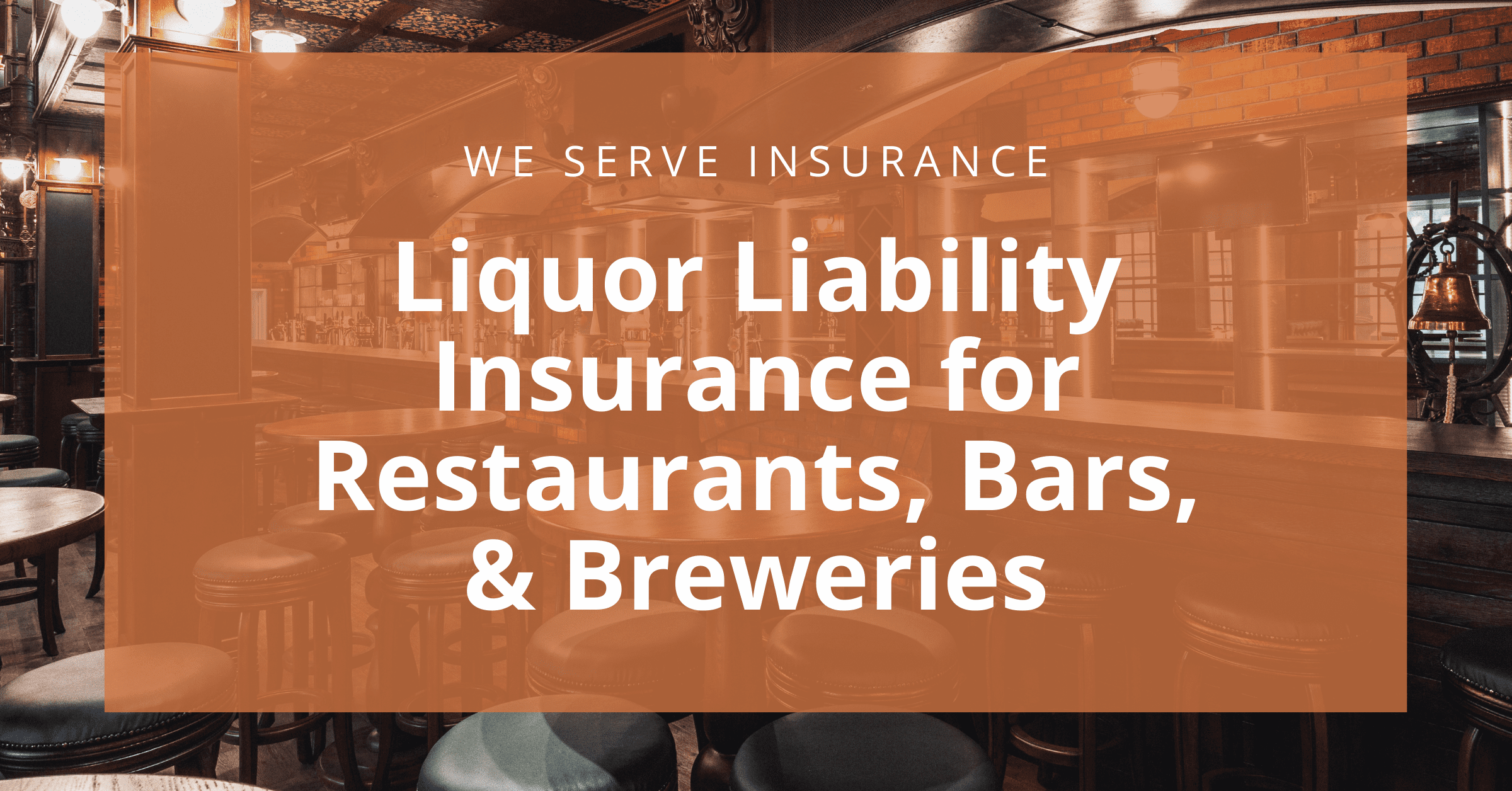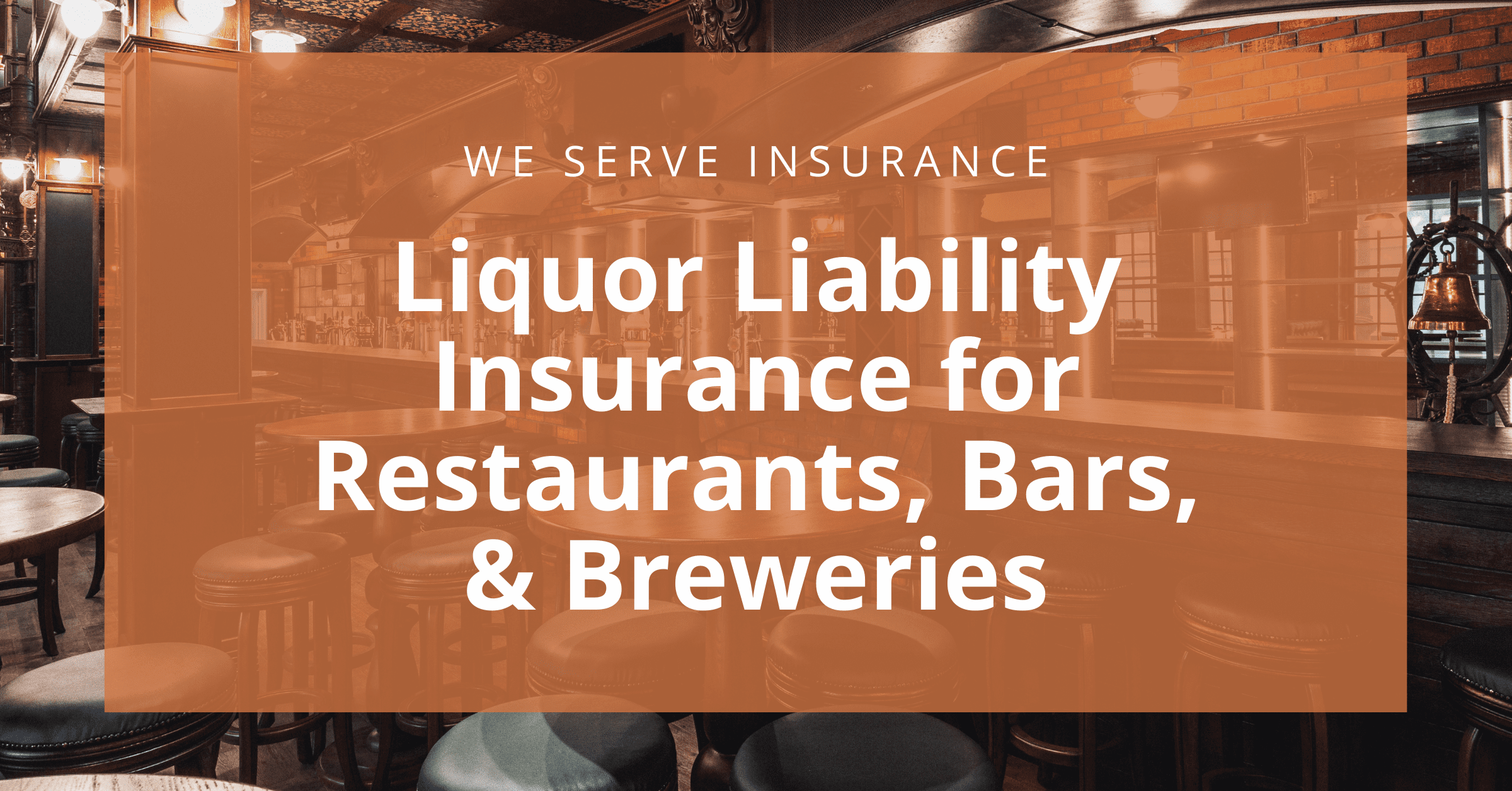 Companies that serve or sell alcohol to customers need an extra layer of liability protection. A good liquor liability insurance policy can allow bars, breweries, distilleries, and restaurant owners to sleep well at night, knowing they are protected from the actions of intoxicated customers.
Let's look at what liquor liability coverage is, who needs it, and how to get a good, protective policy.
First, What is Liquor Liability Coverage?
Falling under the arm of Commercial Liability Insurance, Liquor Liability Insurance protects your business from the risks of serving, selling, or distributing alcohol. First, it covers injury claims made by customers, and second, it covers property damage intoxicated customers cause after consuming alcohol served or sold by your business.
Often, liquor law liability will be a necessary addition to a general liability policy for businesses that engage in the primary activities of serving and selling liquor. For example, breweries, restaurants, distilleries, bars, and nightclubs can add an extra layer of protection with a robust liquor liability policy.
What is another name for liquor liability insurance?
Sometimes, you will hear liquor liability insurance referred to as dramshop protection or dramshop insurance. To explain, a dram is a unit of measurement for liquids, in this case, alcohol, so it refers to shops that sell alcohol "by the dram" and run the risk of managing intoxicated patrons. State governments often adopt this term to describe the statutes they have to protect the general public and businesses from intoxicated people.
According to IRMI, "Dramshop Liability" is the liability imposed upon those in the business of serving alcohol for "loss arising out of the intoxication of patrons."
What Does Liability Insurance Cover?
When you sell or serve liquor, you develop a risk that your customers or patrons will become intoxicated. Then, your business could become liable for the outcomes of your customers' negative actions.
For example, let's say a distillery with a tasting venue has a New Year's Eve Party every year. The distillery has strict rules about how many pours of its spirits each customer gets. However, this year, one of its patrons manages to get extra intoxicated. (Perhaps from taking other people's shots or just sneaking in extra pours from unknowing bartenders.) The intoxicated patron then gets into their car and smashes into a window of the business next door when they mix up the drive and reverse on their car.
In this situation, the business next door could sue the distillery for damages claiming they are liable for the intoxicated patron's actions. Suppose the distillery has a good liquor liability insurance policy. In that case, it will help them pay for the expenses incurred from the lawsuit and any awarded damages (often up to a limit).
This kind of event is not considered rare. Consequently, it is important to have the right amount of insurance and the right type of policy for your business. When choosing a policy, it is important to read and understand what each insurance policy will and will not cover. Each policy will have its coverages and limits outlined, and your insurance professional is there to help you choose a policy that covers your expected risks.
Next, let's look at a few more frequently asked questions to help you choose the right policy for you.
How much liquor liability insurance do I need?
If you own a restaurant, bar, or any place that sells or distributes alcohol, you will need to decide how much liquor liability insurance you need. Your level of coverage depends on your exposure to risk. Among others, the size of your operation, the number of people and alcohol involved, your location, the times of day you are open are all points of interest to a risk assessor.
The best way to understand how much insurance and protection you need is to contact an insurance professional for a risk assessment and insurance quotes. Work with an insurance advisor to help you find the right amount of coverage to keep your business and your assets safe from liability suits.
In addition, how much liability insurance you need will also depend on the state that you live in. Different states will have different statutes determining the level of assumed liability in a court case for the party serving the alcohol. Moreover, some states require you to have "dramshop insurance" in place before you can open your doors to the public. These states will often tell you the monetary coverage levels you need.  So, you will need to research local laws before considering your policy options.
Even if there are no clear rules or statutes in your state regarding liquor liability, you should understand all the risks involved with your businesses serving alcohol and have a professional review of your insurance to ensure you are fully protected.
How Much Does Liquor Liability Insurance Cost?
In the same vein, the cost of a liquor liability insurance policy will also depend on your business size and needs. Again, to assess the price of a policy, you will need to have a conversation with a trusted insurance advisor. Depending on your specific risks and exposures, your policy will cost more or less.
The Best Liquor Liability Insurance Companies
Multiple insurance companies sell liquor liability policies, and depending on your needs; one company may be better than the other for your business. When choosing a policy, look for a company with a strong financial rating that specializes in businesses like yours. Our team at We Serve Insurance show you competitive quotes from the best carriers in your area for your business size and your business activities.
Other Uses for Liquor Liability Insurance
Even if you are not in the full time business of distributing, serving, or selling alcohol, you may need the protection of liquor liability insurance at some point. For example, smaller or temporary policies are useful to companies and individuals holding events, weddings, or any event where they are hosting people consuming alcoholic beverages.
Liquor liability insurance for an event – If an event serves alcohol in a location or situation where it is usually not covered under a general or liquor liability policy, then the event organizers can consider a policy specifically covering the event.
Liquor liability insurance for a wedding – May be taken out on a specific event or location by an individual or a company/organization running the wedding.
Host liquor liability insurance – Covers damages, claims, and suits that arise from intoxicated employees and customers. However, host insurance is usually included under a company's general liability insurance. Although, insurance carriers can supply extra coverage for concerned companies as needed.
What is the difference between host liquor liability and liquor liability?
Host liquor liability is often purchased by companies or organizations that do not serve or sell alcohol as a primary activity for events that include the service of alcoholic beverages. If your business is a bar, club, brewery, or restaurant that serves alcohol full time, you will want a standard liquor liability policy, not a host policy.
Liquor Liability Insurance for Bartenders
In addition, individuals, such as bartenders or servers, may decide to take out a liability policy just for themselves – especially if they are contract workers and not employees. Customers can sue an individual at any time. Professional servers who are worried about their personal protection over what is provided by their corporate umbrella can buy a smaller insurance policy to cover their assets in the event of a civil suit.
Action Steps and Conclusions
In summary, if you own a business that sells, distributes, or serves alcohol, you need to consider your level of risk and your need for liquor liability protection. Your insurance policy protects both your business and your current/potential customers from the actions of intoxicated patrons.
Call or follow up with your insurance advisor so they can provide you with a risk assessment and plan of action. Our team at We Serve Insurance, an INSocial Risk Advisors brand, is here to help you find a policy that will meet your protection needs at a price you can afford. Start a quote today! 
We Serve Insurance - Quote