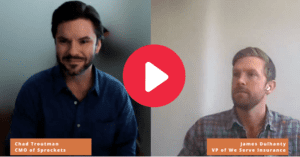 James Dulhanty, VP of Business Development for We Serve Insurance, an INSocial Risk Advisors Brand, had the pleasure of sitting down with Chad Troutman, CMO of Sprockets, who grew up in the restaurant industry. Throughout his tenure where he started as a server and worked his way up to general manager, Chad saw firsthand the struggles of hiring and retaining hourly staff.  Today, he works for an organization that helps restaurants and the service industry hire and retain qualified employees.
James: How are large groups/restaurants retaining new employees within the first 90 days of employment?
Chad: Several large restaurant operations are stepping up their game by implementing or enhancing their benefits package. This goes well beyond a signing bonus, which really doesn't amount to much in the long run. Restaurants that are focused on retaining employees don't feel the need to outpace every hospitality group; instead, they put their focus on becoming upper-tier in the industry. For instance, one large group's website showcases their hourly jobs as a career, which includes growth potential, training, PTO, health insurance, and more.
The ways in which restaurants hire have also been revamped. Research shows that most hospitality workers are applying for six jobs in seven minutes. They want instant gratification, so you have to act fast. If you see potential in a candidate, pursue them immediately. Schedule a paid shift for the prospect. Let them see what your organization has to offer, what the job looks like, and whom they'll be working with. By doing so, prospects will clearly understand what they're getting into and won't feel jerked around during a long, grueling hiring process.
James: What are key strategies to move into the next step of retaining employees long-term?
Chad: Exit interviews can be critical when an employee leaves the company. It is the time when they are likely to see this employee at their most honest moment. What we have been learning lately is that restaurants are losing a lot of good people to burnout. They are fed up with the lack of change in the industry.
So your job now is to win back goodwill. Benchmark yourself beyond just looking at the foodservice industry but review hourly jobs as a whole and benchmark against that competition. Bring things like pre-shift meals back to help with camaraderie and communication among employees.
Businesses that are attracting employees back are talking about what's different with the people they'll be working with and taking a different look at how these employees will be taken care of way past the signing bonus. Talk about the business and show that you're changing how you're building staff and shifts. Show that you're willing to nurture their career and invest in them. While this may sound overly simplistic, it takes honest and transparent communication. Consider reconnecting with past applicants and employees to tell them how you've changed and improved and offer them the opportunity to come back and join your organization.
James: What job posting sites are best to find restaurant employees?
Chad: Indeed is considered the Greyhound Bus of job boards (the largest and most robust). Snagajob is another good option. Seasoned is trying to be the LinkedIn for the foodservice industry, but I'm not sure how well that's working. ZipRecruiter is well known but has a high premium. Many of these job boards feed off of each other, so you will start to see the same candidates on all boards.
Aside from job boards, a very effective way to attract employees is through an old school method of utilizing a QR code – include it on posters and advertisements so it's quick and easy for job seekers to access.
And since so many people in the foodservice industry tend to network and talk to each other, a good referral program is key. Hospitality staff want to work with people that they know and trust. They won't recommend someone who will do a bad job. Employee buy-in during the hiring process is amazing and transformative in terms of applicant flow – pay more for employees to bring in quality people.
James: What other unique perks should these places offer to motivate and hire employees?
Chad: As I previously mentioned, pre-shift meals are a crucial moment for bringing everyone together and helping them feel comfortable enough to open up. Camaraderie is so important. I've even seen groups share time with different nearby establishments to form a partnership.
Offering perks like being able to bring food home can also go a long way. So much food waste is happening these days so it's not only a sign of goodwill but also beneficial to our environment.
James: What advice do you have for local restaurants/breweries/bars struggling to get more applicants?
Chad: The biggest myth is that people don't want to work. On the contrary, they are fed up with being taken advantage of. Organizations must have good execution and a moment of self-realization to get through this. Stabilize staffing levels, find the right fuel (applicants) for your business, and make sound hiring decisions. It's also imperative to arm general managers to be motivators – give them the necessary time to have conversations with applicants.
Don't disregard re-engaging past applicants and employees even up to five years ago. Tell them how you've changed and improved. Send text messages since people react faster to this method than a phone call or email. Continue communicating in this way until the conversation warrants a different mode of action. Messages don't have to be elaborate and can actually be slightly generic. 
In this day and age, media rules – Vidyard is a great tool to make quick, short videos, which is a small way to help you stand out in the applicant flow. Include a recording from a current staff member and make it a genuine moment.
Nine times out of 10, ghosting happens because a candidate got a better interview or offer before you contacted them. When I first started reconnecting with past prospects and employees, 35% of them came back and reapplied.
It's important not to resort to gimmicks or desperation as a temporary solution (e.g., signing bonus). Show your potential employees a career path and let them know there's more to the job than just money. Your language and imagery in the message are important for reeling people in. Ensure your content is not too long or too short. A super long job description will be overlooked; on the contrary, minimal details show a lack of effort in attracting quality candidates.
James: How can clients learn more about you and Sprockets?
Chad: Visit the Sprockets.ai website. You can also see us at lots of trade shows. Whether you choose our product or not, we have a great partner network we're happy to recommend. Feel free to message me directly at chad@sprockets.ai.