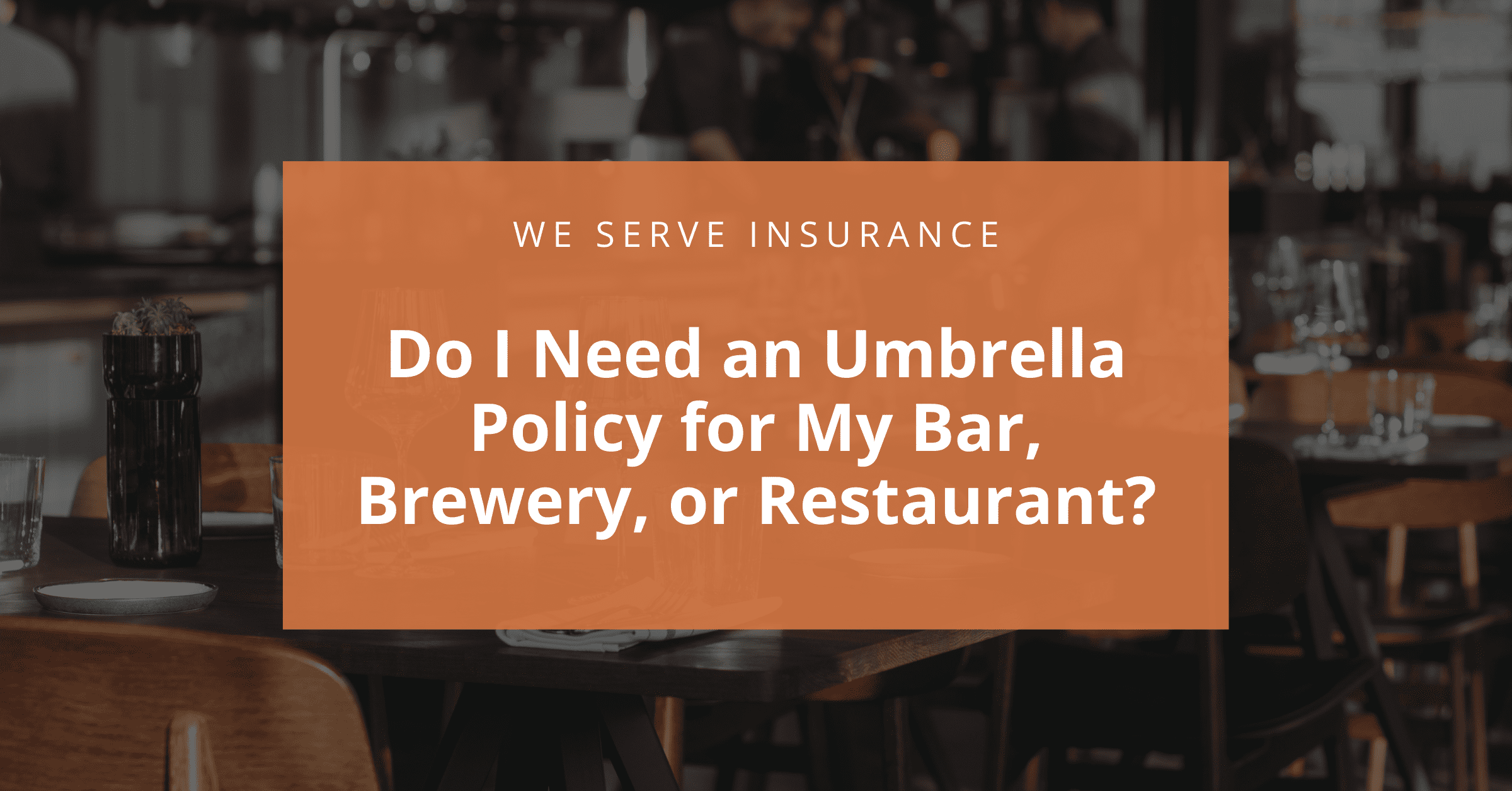 An Introduction to Commercial Umbrella Policies for Small Businesses
Commercial insurance policies protect your business and assets against the known and unknown risks of running your business. In most cases, your standard insurance policies will offer enough coverage to protect you when things go wrong.
However, in some extreme cases, you may need more coverage to cover the costs of large losses. It's in these cases, that an umbrella policy may be what saves your business and your assets.
In addition, bars, breweries, taverns, restaurants, distilleries, and other similar businesses often have more or different risks than other small businesses. For this reason, you need to carefully consider if your business needs an umbrella policy as part of your risk mitigation business plan.
This article will cover the basics of umbrella policies for small businesses, and get you started on the right path to making sure you have enough insurance coverage for whatever comes your way. However, we also encourage you to reach out to your independent insurance agent to help you assess your specific situation, as your businesses' needs are unique.
What is an Umbrella Policy?
Let's get started with a little "Umbrella Insurance 101." (First, note that both individuals and businesses can purchase and benefit from an umbrella policy. However, in this article, we will be focusing on business insurance.)
Basically, commercial umbrella insurance offers additional coverage on top of the coverage offered by your in-place, basic insurance policies.
Your business has various insurances in place to protect different aspects of your business. However, these policies have benefit or pay-out limits. In the event of a claim, umbrella policies offer extra money or coverage that starts when your claim exceeds your commercial or liability insurance policy's limits.
How Does an Umbrella Policy Work?
So, how does umbrella coverage specifically work? To start, you need to have primary insurance policies in place. Then, in the event that your general insurance policies reach their coverage limits, your umbrella policy will add additional coverage benefits up to the amount that you pay for.
For example, let's say "Bob's Bar" has a general commercial liability policy that covers claims up to two million dollars for a liability claim. However, Bob's Bar has a particular claim that reaches $2.5 million. In this case, Bob's Bar's general liability policy would cover the first $2 million, and then the businesses' umbrella policy would cover the additional half a million.
Note, that if Bob's Bar did not have an umbrella policy to supplement their general liability policy, then the bar would have been responsible for covering the additional money out of their own pocket. So, in this case, the umbrella policy saved the business from having to come up with the extra money to settle a liability claim.
Umbrella Policies and Other Insurances
So, what kinds of insurance can an umbrella policy supplement?
General Liability Insurance

– This insurance protects your business from claims and settlements against your business for injuries and illnesses resulting from negligence. "Slips and falls" are one common example of a covered risk in this category. If your business incurs a settlement that goes beyond the coverage limits of your liability policy, then your umbrella insurance could offer additional coverage to help cover the excess.




Liquor Liability Insurance

– Bars, breweries, distilleries, taverns, clubs and restaurants may be required to have additional insurance to cover the actions of intoxicated patrons. If you have liquor liability insurance, your umbrella policy could supplement this coverage as well.




Commercial Insurance

– You have insurance in place to cover your property, equipment and other assets. If a covered event has damages that exceed your commercial insurance policy limits, then your umbrella policy will kick in to cover the additional cash needs.
Auto Insurance

– As another form of commercial insurance, your umbrella policy could also offer additional coverage to your auto policy if you meet your coverage limits.




Employer's Liability

– You may have this with your workers' comp policy, and again, your umbrella policy will kick in to cover any covered events in the event they exceed your policy's limits.
Does My Bar, Brewery or Restaurant Need an Umbrella Policy?
Most likely, you will need an umbrella policy if you own a bar, brewery, tasting room, club, tavern, distillery, restaurant, or any other similar business. As a business owner in the service industry, or in the alcohol distribution industry, you are probably intimately aware of all the risks and hazards your business is exposed to.
Moreover, these risks can lead to expensive and often exhaustive claims that can leave businesses like yours stripped of cash reserves or even ruined. Umbrella insurance can be the risk and exposure planning option that saves your business from a costly claim.
Additionally, sometimes your business will be required to have an umbrella policy. This requirement could come from a business contract, participation in an event or some other permanent or temporary need.
Examples of Hazards/Risks
If you are not yet convinced, here is a partial list of all the hazards and risks bars, breweries, etc. face that can lead to costly claims:
Serving alcohol in general (and unintentionally to minors)

The actions of potentially intoxicated patrons

Slip and fall risks from dim lighting, unmarked stairs, wet floors, bunched carpet, mats or rugs
Broken glasses on the floor
Overcrowded spaces
High traffic areas
Unruly patrons and spontaneous fights
Insufficient or negligent security
Driving distribution or delivery vehicles
Unaddressed outside risks (like ice or snow)
Plus, many more!
All of these risks have the potential to lead to a very costly injury, an illness or a form of property damage. If your business experiences a claim related to one of these risks, then first your line of defense is your primary insurance policies. Then, if needed, your extra coverage provided by your umbrella policy.
Frequently Asked Umbrella Insurance Policy Questions
Bar, brewery and restaurant owners often have similar questions when it comes to umbrella policies. Let's look at a few of the most frequently asked questions.
Is umbrella insurance a waste of money?
No, umbrella insurance is not a waste of money for small business owners. This is especially true if you are in the service industry, and even more relevant for businesses that sell or serve alcoholic beverages. Your umbrella insurance coverage can supplement your liability insurance, commercial insurance, liquor liability insurance and commercial auto insurance. It can even apply to your worker's compensation insurance when set up to.
How does umbrella insurance work with my commercial insurance and liability insurance?
As noted, umbrella insurance acts as a supplement to your existing insurance policies. If you reach your commercial insurance policy's limit or your liability insurance policy's limit, then your umbrella policy will supply additional coverage to help reach your monetary needs.
It is always important to talk with your insurance advisor or independent insurance agent to understand your complete insurance plan. Your agent will be able to show you what coverages you have in place, and what your umbrella insurance policy will supplement. They will also be able to help you assess if you have any exposed risks or holes in your planning and how you could apply additional coverages to fill these holes.
When does an umbrella policy kick in?
Your umbrella insurance policy will start offering coverages in the event that a covered claim cost exceeds the benefit amounts of your primary insurance policy. So, if your commercial auto coverage has a benefit limit of $500,000 and you need $750,000 to cover a claim, then your umbrella policy will add an additional $250,000 of coverage to meet your full cash need of $750,000.
Action Steps for Your Bar or Restaurant Business
As a business owner, you need to consider carefully your need for additional insurance coverage through the proper use of an umbrella insurance policy. Most likely, you will need additional coverage to address the coverage limits of your existing commercial and liability policies.
Being in the service industry, and especially selling and serving alcoholic beverages, does open your business up to more risk. For this reason, we suggest reaching out to your independent insurance agent or advisor to make sure your exposures are all accounted for and covered.
Your insurance agent will help you to find the right insurance company and the correct amount of coverage to make sure your business is properly protected in the event of a large claim. Our team specializes in insurance for restaurants, bars, breweries, and distilleries – and would be happy to help answer any questions you may have about your insurance program.