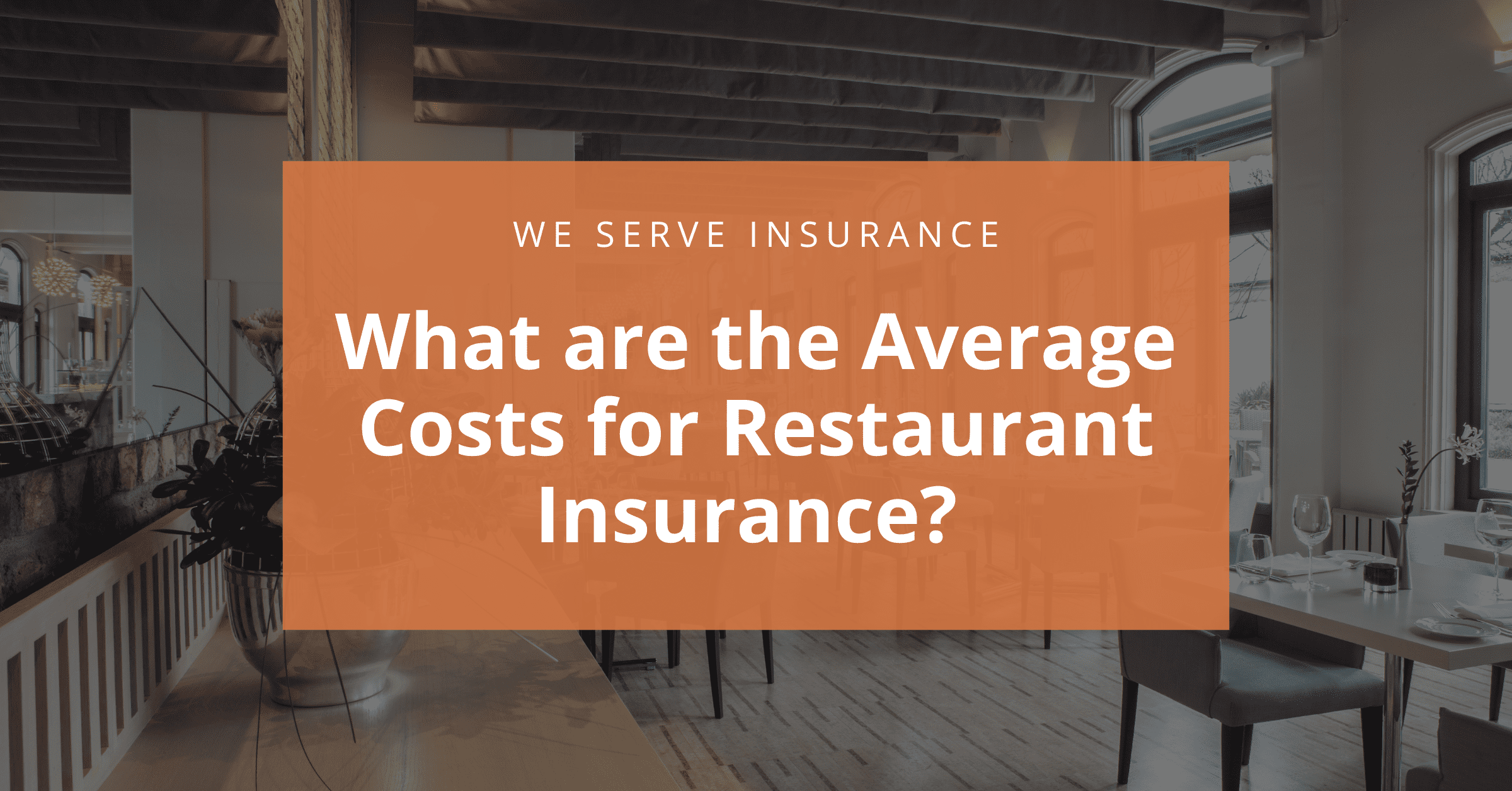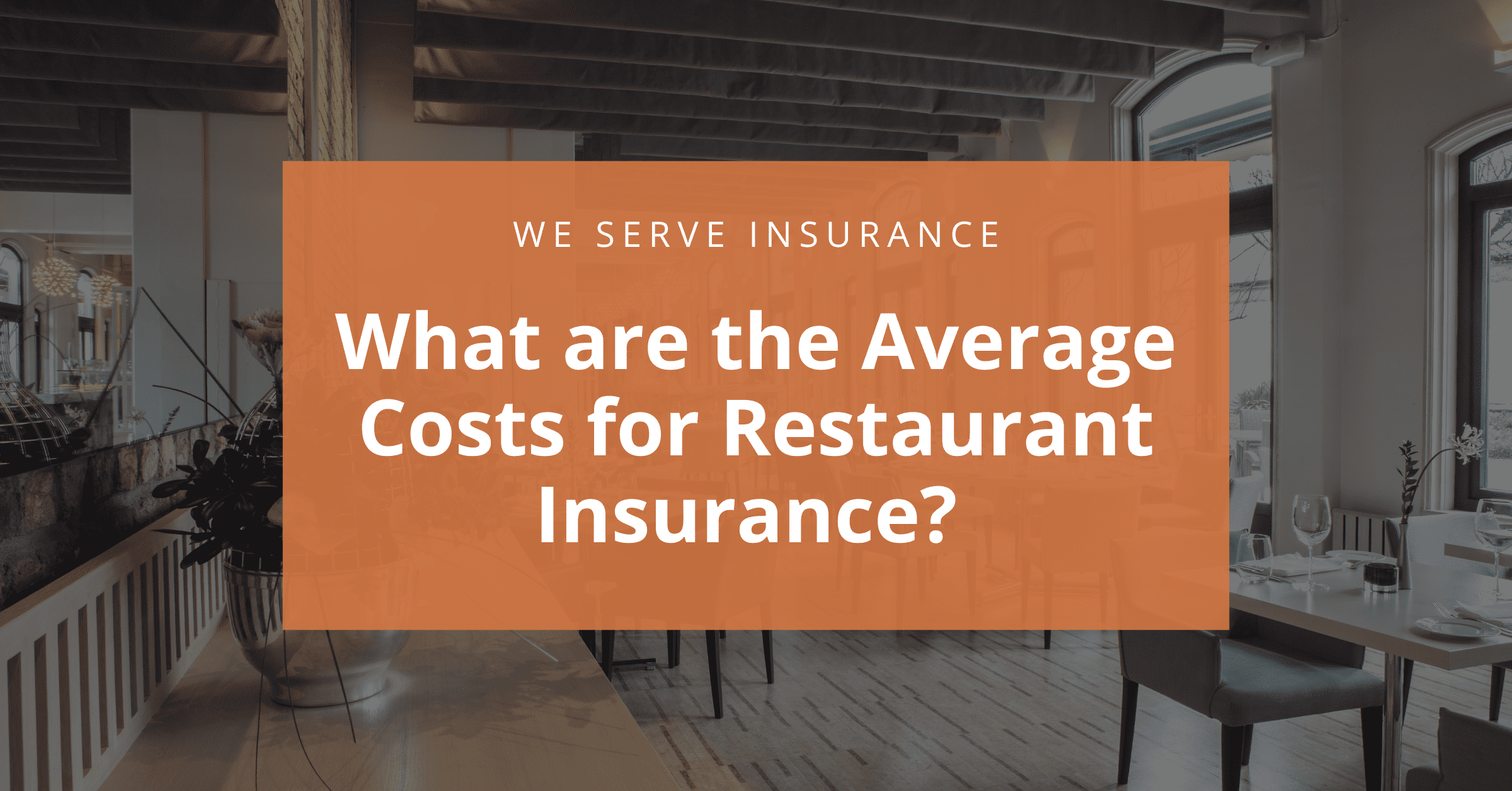 Starting a business is exciting, and at the same time, very complicated. There are so many moving pieces, and the "To-Do" List is long.
Finding insurance is one of the biggest items on a restaurant entrepreneur's to-do list and budgeting the cost of insurance into your business plan is key to financial success.
So, what are the average costs of restaurant insurance?
First, let's look at the key factors that will play into your insurance costs.
Then, we will look at the various types of insurance and their typical costs.

Finally, we will look at how insurance costs affect the cash flow needs of a restaurant.
Real Costs vs. Estimates
Before we begin, please know that all of the costs discussed here are estimates. If you would like a real assessment of the true insurance costs for your restaurant and your unique situation, we recommend talking to a professional.
An independent insurance agent will be able to assess what kinds of insurance your business needs. Then, your agent will be able to compare prices of insurance policies and products provided by multiple companies in your area. Together, you will be able to get the right coverage at the right cost for your restaurant or food service business.
Insurance Costs and Types of Restaurants
To begin, restaurant insurance costs will depend on the type of restaurant you own, the size of your establishment and where you are located.
Service Type
There are so many different kinds of restaurants these days. From fast food, fast casual, food trucks, cafes and pop-up dining to more traditional casual dining and formal dining – the type of restaurant will affect your insurance costs.
Size Type
Next, the size of your food service business will affect the cost of your insurance. A small food truck with two employees will have a much different insurance bill than a full-service, sit-down restaurant with fifty employees. However, that food truck may have auto insurance related costs that a sit down restaurant may not have to carry.)
Location Type
The location of your business will make a difference in how much some of your insurance costs. Having a restaurant on a beach on the East Coast will help to create ambiance and attract customers, but your commercial insurance company will see weather related risks they will need to financially cover for you. (For example, a beach restaurant could experience hurricanes, flooding, etc., depending on their locale.)
Alcohol Service Type
Additionally, if your restaurant serves alcohol – or makes alcohol – then you can expect your insurance costs to rise. Liquor liability insurance may be required in some states in addition to your general liability insurance if you serve or make alcohol.
In addition to talking to your Insurance Agent, here are some alcohol service questions to think about:
Does your restaurant have a large bar area?

Do you have a distillery or brewery attached to your restaurant?

Do you have a delivery service?

Does over half of your sales come from alcohol sales? (You may be classified as a bar in some states depending on how much of your sales come directly from alcohol sales.)
Types of Insurance and Average Costs
Next, let's look at the various types of insurance your restaurant business may need to purchase to protect your assets, your workers, and even yourself.

We will also look at their average costs when we can. This will give you a rough idea of how much you will need to budget for insurance. However, as mentioned, the best way to discover the true costs of your insurance needs to to get a quote from your independent insurance agency or broker.
Typical Types of Insurance Needed by a Restaurant
Commercial Insurance – Sometimes called property insurance, this insurance covers your business assets from the risk of damage or theft. Included in coverage is typically your owned structures, buildings, inventory and other tangible assets.



General Liability Insurance – GL covers your damage responsibilities to other people or businesses and their properties if your business is involved in any way.

Liquor Liability Insurance – If your business serves, makes or sells alcohol, there is a good chance you will need to supplement your basic general liability insurance with liquor liability insurance. Make sure to check with your insurance agent or risk management professional to see what is required in your state.




Business Owner's Policy (BOP) – One way to save money on your business insurance is to bundle together your commercial property insurance with your general liability insurance. This is called a Business Owner's Policy or (BOP) and it can reduce costs by a decent percentage. There are size rules to who can get a BOP though. These were designed for small businesses.
According to HowMuch, the typical commercial insurance or BOP policy will cost a small restaurant between $1,150 – $6,000 a year.
Workers Compensation Insurance – Workers comp is a compulsory insurance, meaning that you have to have it if you have any employees. Worker comp covers workplace injuries – both medical claims and time off claims (indemnity claims).
Employers' Liability – In certain industries it makes sense to have extra liability insurance to cover workers. Consult with your agent to decide if your restaurant needs this.
Your Workers Comp costs will depend on the size of your payroll, your businesses experience rating and what each carrier can offer for discounts. For instance, in your state, the government could set the restaurant workers comp rate at $3.00 per $100 of payroll, then you would have an experience modifier to increase or decrease that rate. As a result, getting a quote is the best way to estimate workers comp costs.
Other Kinds of Insurance You May Need
Commercial Auto Insurance – If your restaurant has any food or beverage delivery trucks or cars, you will need this insurance to cover both your own assets and your liability for damage to others' property.




Umbrella Insurance – As we have covered more extensively in our other articles, umbrella insurance picks up coverages where your basic commercial and liability insurance policies leave off. It adds an extra layer of protection and ensures that if you have a very large loss, you will have additional resources to help cover those losses.



Health Insurance for Employees – If you have employees, you may want to (or need to) provide them some sort of group health insurance.

Other Benefits – In addition to health insurance benefits, you may also want to provide other group insurance benefits. These could include short or long-term disability insurance, group life insurance, or another type of group health benefit like dental, vision or hearing insurance.
Prices will range from a couple hundred bucks a month to thousands depending on how big your business is and how many employees you have, how many trucks you own, and just how much any other assets amount to.
In conclusion, you can get a pretty accurate price determination on your insurance needs with a quick call or online quote by visiting weserveinsurance.com. Reach out to us today and our team will be happy to help you determine your restaurant insurance needs.